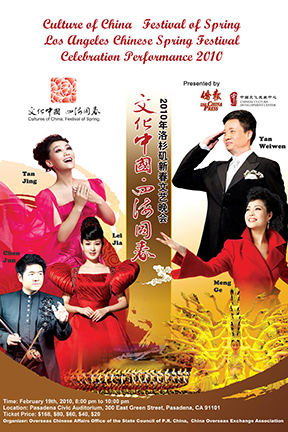 Time:February 19th, 2010
Location:Pasadena Civic Auditorium
This special global event named "Cultures of China, Festival of Spring" has received recognition and compliment not only in the overseas Chinese community, also in the mainstream society all around the world.
As the only authorized organizer of this event in southern California, Chinese Culture Development Center (CCDC) continually hosts the celebration performance of this year at Pasadena Civic Auditorium on February 19th, 2010. Keeping at the high standard, another world-known performance group, the General Political Department Song and Dance Ensemble, presents its great and unique performance, bringing out wonderful Chinese New Year wishes to all the audience in Los Angeles.
Many famous Chinese artists take part in the performance, including Yan Weiwen, one of the most prestigious singers in China, Tan Jing, the top Chinese female folksinger who held her solo concert in Musikverein Golden Hall in 2006, Chen Jun, the Master Erhu performer in China who is also known as the Paganini of the Erhu, and two famous Chinese soprano, Meng Ge and Lei Jia.
LIVE PHOTOS
FEATURED PERFORMER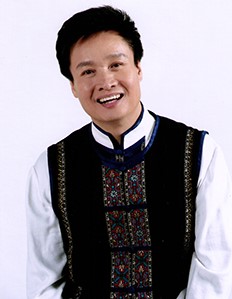 Weiwen YAN, national first-class performer, member of the PLA Art Troupe, is a famous tenor singer.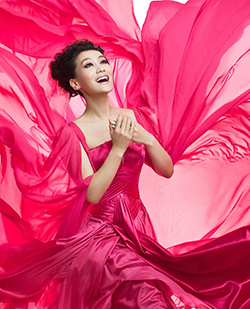 Jing TAN, national first-class performer, famous folk, bel Canto, pop singer.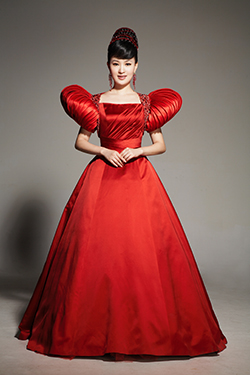 Jia Lei, national first-class performer, deputy head of the PLA Art Troupe, famous young singer.
THE PROGRAMME
GALA