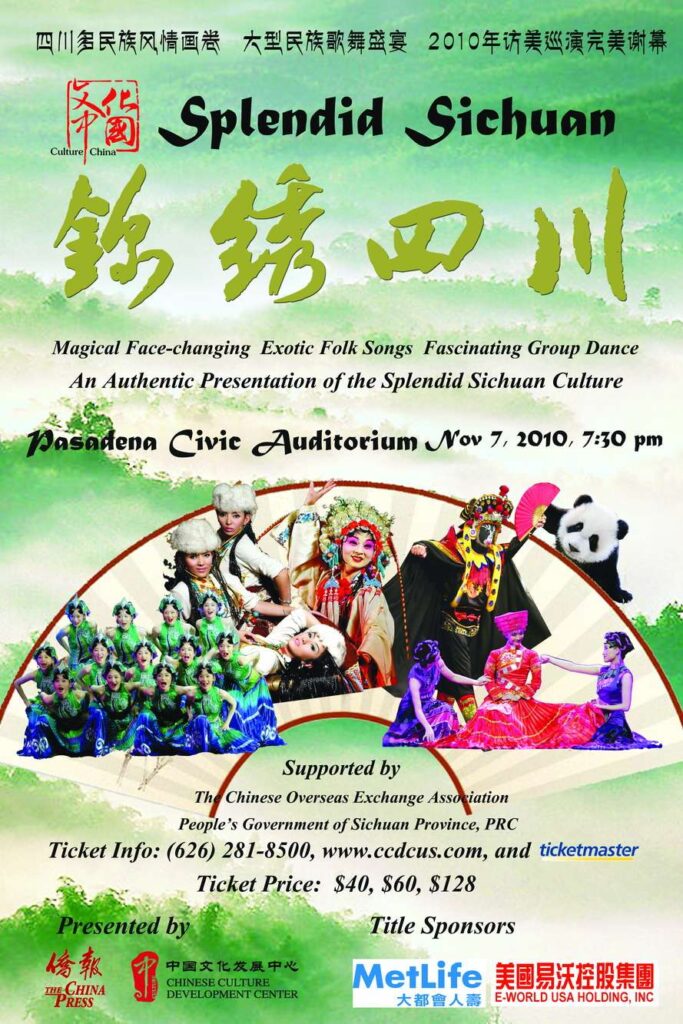 Time:November 7, 2010
Location:Pasadena Civic Auditorium
On November 7, 2010, Sichuan Song and Dance Group, known for their spectacular presentation of the folk art and culture in Sichuan, performed at Pasadena Civic Auditorium.
More than 2,500 audience enthusiastically watched the performance, which included singing and dancing, opera and acrobatics, reflecting the multi-ethnic cultures of Tibet, Qiang, Yi and Han, as well as the historical connotation of Sichuan. The 100-minute performance was cheered constantly by the audience. The closing chorus of "Heartfelt Thanks to you" filled the auditorium with warm gratitude. Many audience who were originally from Sichuan were in tears and did not want to leave for a long time at the end of the performance.
A total of 200 guests, including the representatives of the Chinese Consulate General in Los Angeles, American politicians and Overseas Chinese associations, gathered together to congratulate the successful performance of "Cultural China, Splendid Sichuan". The guests enjoyed two photographic exhibition, which themed "Splendid Sichuan" and "Overcame the Earthquake".
LIVE PHOTOS
BROCHURE
GALA
RECOGNITON
VIDEO LINK