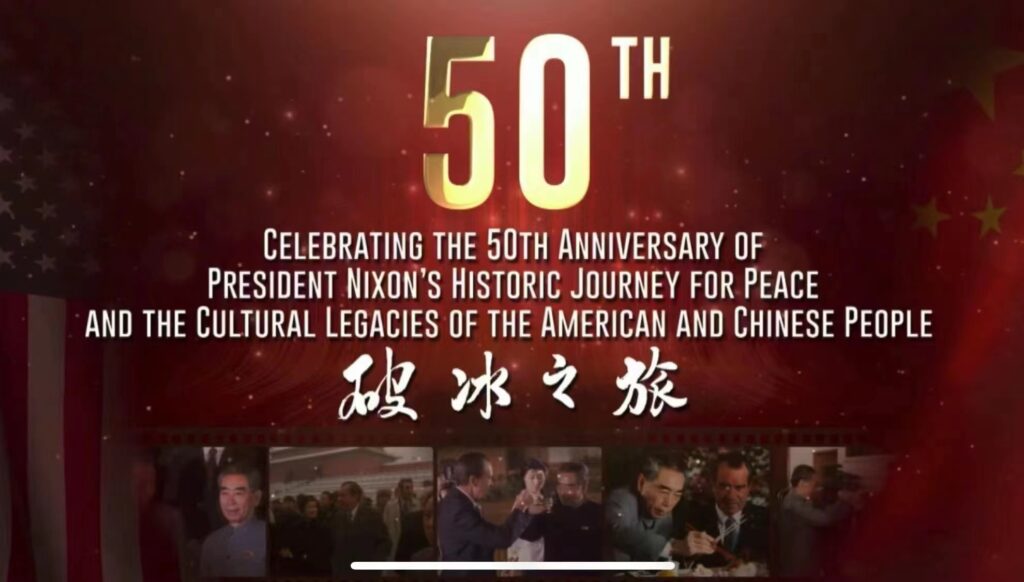 时间:February 24, 2022
地点:The Richard Nixon Library & Museum
Nearly 400 US and Chinese guests gathered at the Richard Nixon Presidential Library and Museum in Yorba Linda, California, on February 24 to celebrate the 50th anniversary of president Nixon's "Ice-Breaking Trip" to China. Chinese Ambassador to the U.S. Qin Gang, former U.S. Secretary of Labor and Transportation Elaine Chao, former U.S. Ambassador to China J. Stapleton Roy, and Chinese Consul General in Los Angeles Zhang Ping attended the event.
This is the first visit of Qin Gang to the West Coast since he assumed office on July 28, 2021. He was warmly welcomed by the local Chinese and American people. In his speech, Qin said history was the best teacher, which faithfully records the footprints of China-US relations and provided inspiration for future development. President Nixon's landmark trip 50 years ago has greatly benefited the relationship between the two countries.
Jim Byron, Chairman of the Nixon Foundation, said that the future of the world lies in the hands of the Chinese and American people. Former US Secretary of State Dr. Henry Kissinger delivered a keynote speech, recalling the hardships of the icebreaking journey 50 years ago.
Before the dinner, performances sponsored by SINOUS, received warm response and high praise from the audience. Among them, Bei Bei Monter, a famous Chinese zither performer, performed "Dance of the Yi People", and Chen Jun, a famous Chinese erhu player from an erhu family, and his 17-year-old daughter, Chen Yimiao, performed "Wild Flying Horse" composed by Chen Jun.
The Chinese Culture Development Center of Los Angeles is among the sponsors of the Gala. Famous American Chinese entrepreneur and philanthropist Ming Hsieh and Charlie Zhang also contributed to the event.
LIVE PHOTO
RECOGNITON
MEDIA REPORT
VIDEO LINK